eDDA Fast Deposit Guideline
eDDA (Electronic Direct Authentication) is a value-added service of the Faster Payment System (FPS) that allows you to authorize Tiger Brokers (Hereinafter called 'Tiger') to transfer funds from your bank account to your Tiger account.
After authorizing your bank account via eDDA, you can initiate the deposit directly from Tiger Trade app. Tiger also offers recurring deposit.
Tiger now supports the following banks for eDDA Fast Deposit:
HSBC, Industrial and Commercial Bank of China (Asia), Hang Seng Bank, Standard Chartered Bank, Bank of China (Hong Kong), China Merchants Bank(HK), Nanyang Commercial Bank, CITIC Bank, CMB Wing Lung Bank, ZA Bank, Chiyu Bank, Bank of East Asia, DBS(HK), Airstar Bank, Welab Bank, and Livi Bank
eDDA Fast Deposit can be completed in two steps:
1. Complete eDDA authorization. (Only required for first-time eDDA fast deposit).
---
Set up eDDA authorization
Set up eDDA authorization on Tiger side:
Please see an example on the Tiger Trade APP:
1. Log into your Tiger account, tap "Trade"-"Deposit"-"eDDA Fast Deposit".
2. If you have not added an eDDA bank account, please select your bank and fill out any other information. Tap "Save and set up eDDA".
3. You are now at the "Set up eDDA Authorization" page. Choose the ID type registered at the bank when you opened your bank account and enter the correct ID number, tap "Submit".
4. You have successfully submitted the eDDA authorization and the review result will be sent to you via email and APP. You can make eDDA deposit after successful authorization.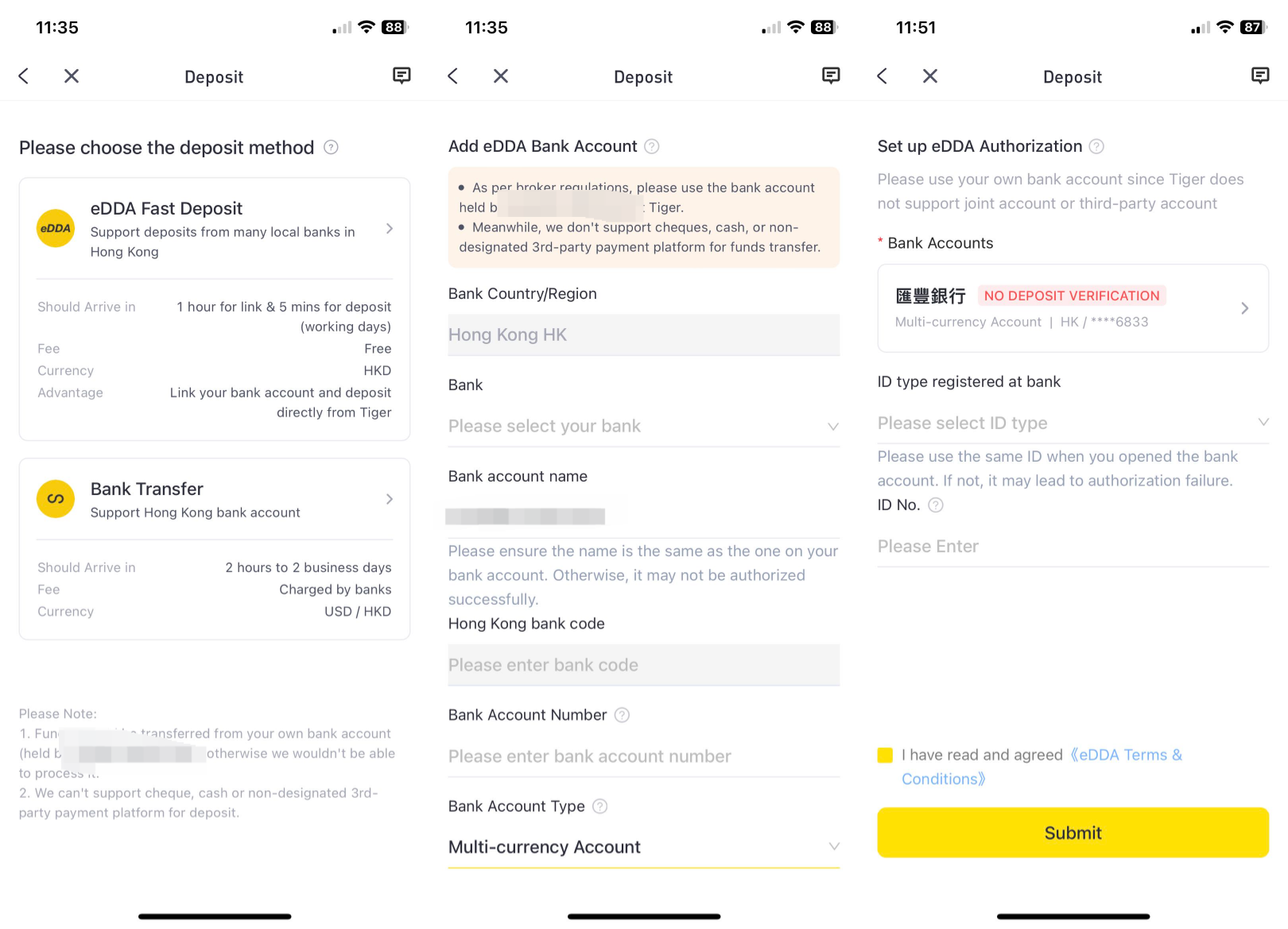 ---
1. Tiger Brokers does not accept deposits from others' accounts and joint accounts.
2. The bank may reject your deposit instructions due to insufficient account balance or other reasons, which may result in a failed deposit.
3. Tiger Brokers only accepts deposit instructions submitted through Tiger's official website/APP. Tiger will submit your instructions to the bank, and the bank will complete the deposit for you.
4. The screenshots are for reference only. If there is any discrepancy, please refer to the actual page or contact Tiger's customer service.